A stew full of flavours,
spicy and smokey,
fresh and sweet,
sided with Belgian fries!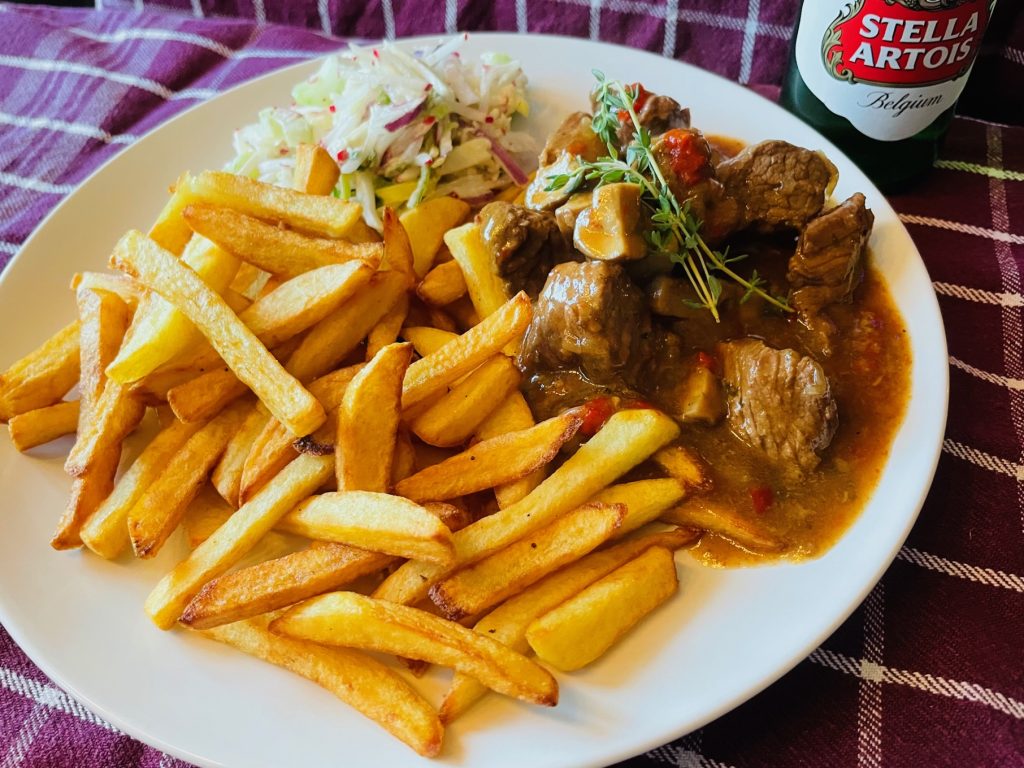 Introduction
Now this one is so long overdue! Why, you might ask? Well because this is one of these dishes that I've done so many times, slightly adjusting here and there until it reached something close to perfection to my humble taste. Let me be upfront, usually I make this one with Guinness instead of Chimay Blue, but I forgot the Guiness during grocery shopping, so I had to go with what the local night shop had on offer. Aren't you guys lucky that was Chimay Blue! This immediately illustrates how a rich stew like this can be made with a wide variety of (brown) beers and it will come out great. If you're a fan, why not have it with lambic-based geuze for a change? This is not your standard Belgian Beer stew, it has a few special touches to it, which are combined with classical Belgian stew tricks. Now let me get started with the marinade of the (lean) beef…
Ingredients
Now technically this might not be part of the ingredients, as we're immediately taking a jump start and do the full marinade of the beef. We chop all (solid) ingredients mentioned below into very fine chunks and mix them with the liquid ingredients. We add the meat (in fine chunks) to the mixture and mix up well, after which we cover up with aluminum or plastic foil and put it to rest for a (few) hour(s) in the fridge. Overnight would do just as well, whatever fits your schedule! Note that the ingredients here start from 2 kg of (lean) beef meat. Adjust the quantities to your liking, but remember making twice the amount doesn't double your work and cooking time! I like to cook big portions and freeze a lot for a rainy day! For an extra smokey touch, I often add smoked bell pepper powder or chipotle to this mix!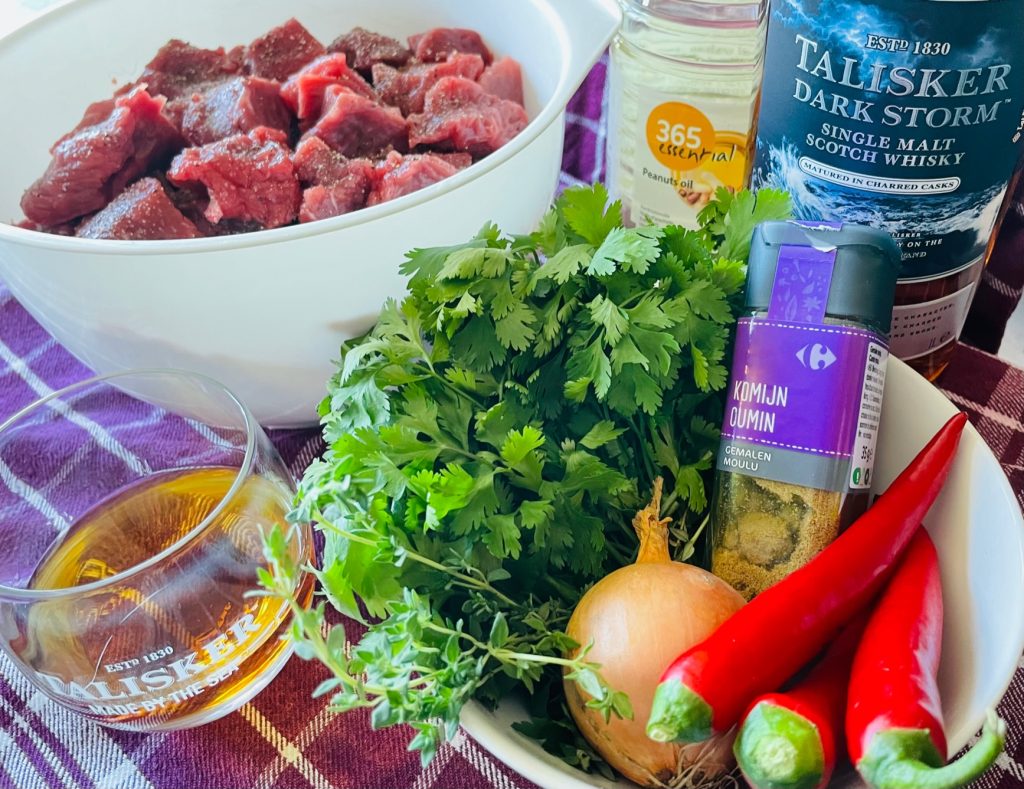 2 kg of (lean) Beef meat
100 ml of Peanut oil
10 ml of Talisker Dark Storm
20 g of Fresh Coriander
A few branches of (fresh) Thyme
One small onion
3 Spanish red peppers (go stronger if you want, Habanero is your friend!)
1 tbsp of Cumin (powder)
(Black) Pepper and Salt to taste
(optional) Juice of a few Lemons
Now that we've got the meat marinating, we can move on to the rest of the ingredients. We're over half-way already with the preparations, now cooking time is another story! This is pretty much all else you need for the sauce, not too hard is it?
2 Bottles of Chimay Blue (660 ml)
500 g of (brown) mushrooms
2/3 large Red onions
2-3 sweet long bell peppers
4 slices of (brown) bread
4 tbsp of Mustard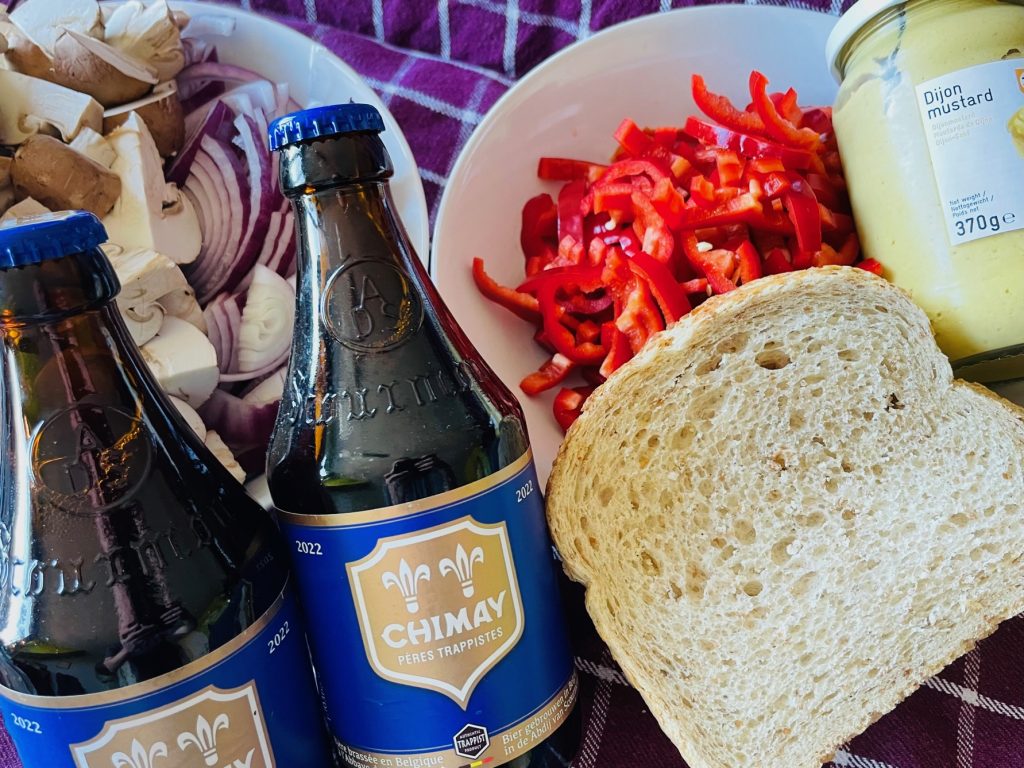 Preparation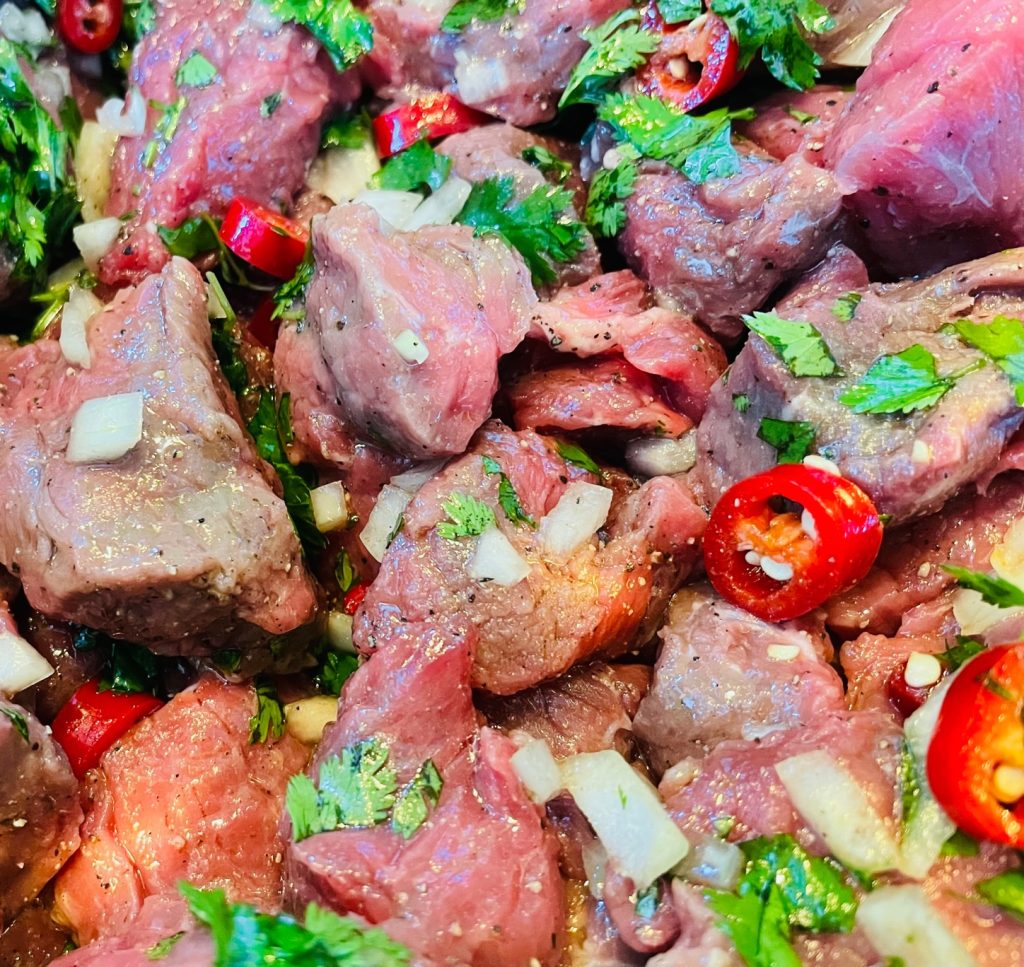 Now as I mentioned above, half of the work is already done. Chop up the vegetables for the sauce coarsely as depicted above. Put a large kettle on a hot fire and add the marinated beef to the kettle. Stir sufficiently such that the meat gets nicely coloured.
Once the meat has coloured, add the remaining vegetables along with the Chimay Blue. Leave to simmer on low fire for several (4-6-8) hours, the more the merrier! Stir occasionally.
After everything has formed one nice blend, add up the slices of bread each with a tbsp of mustard spread on them. this will give a nice binding to your stew!
Serving tips
So we're already sampling are we? Yes, we're there already! I served with Belgian Fries and some green salad. Have it with whatever you feel like! Works with rice, works with mashed potatoes, works with boiled potatoes, whatever you like!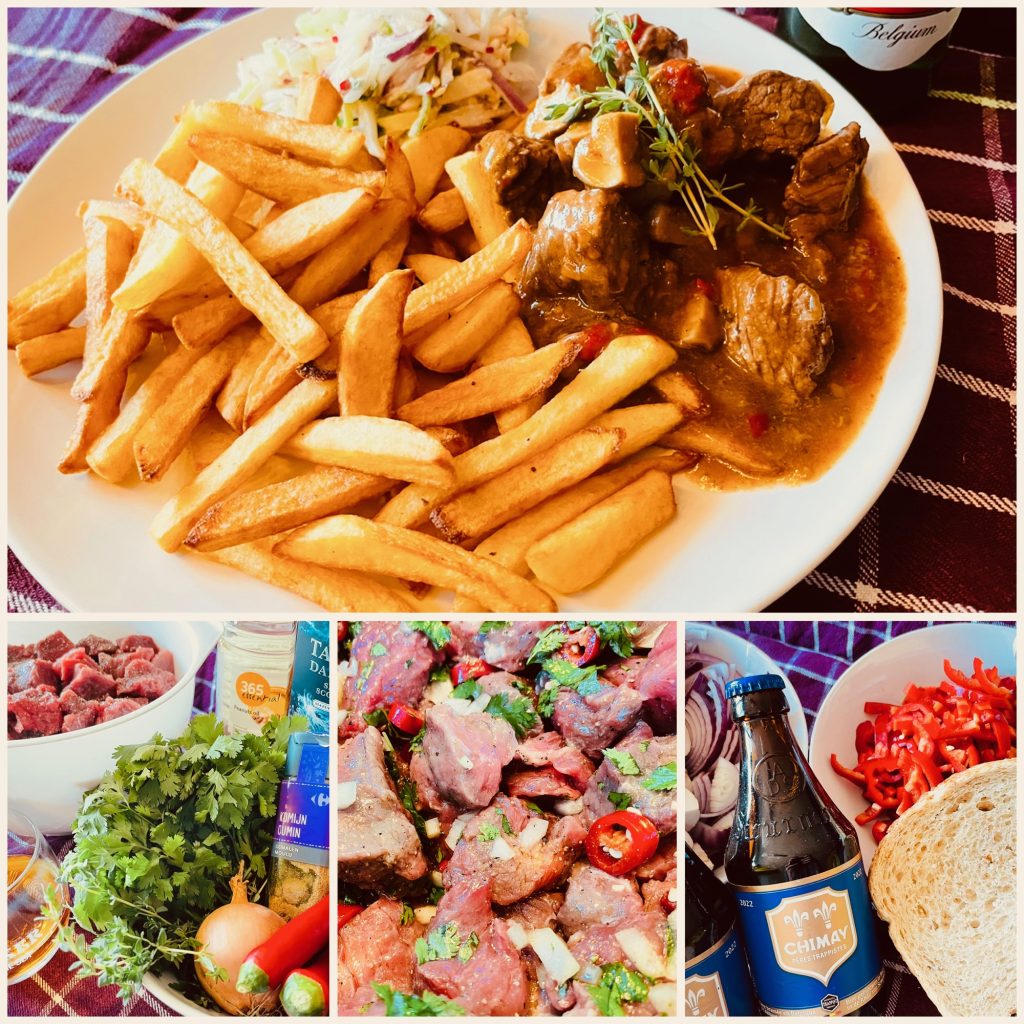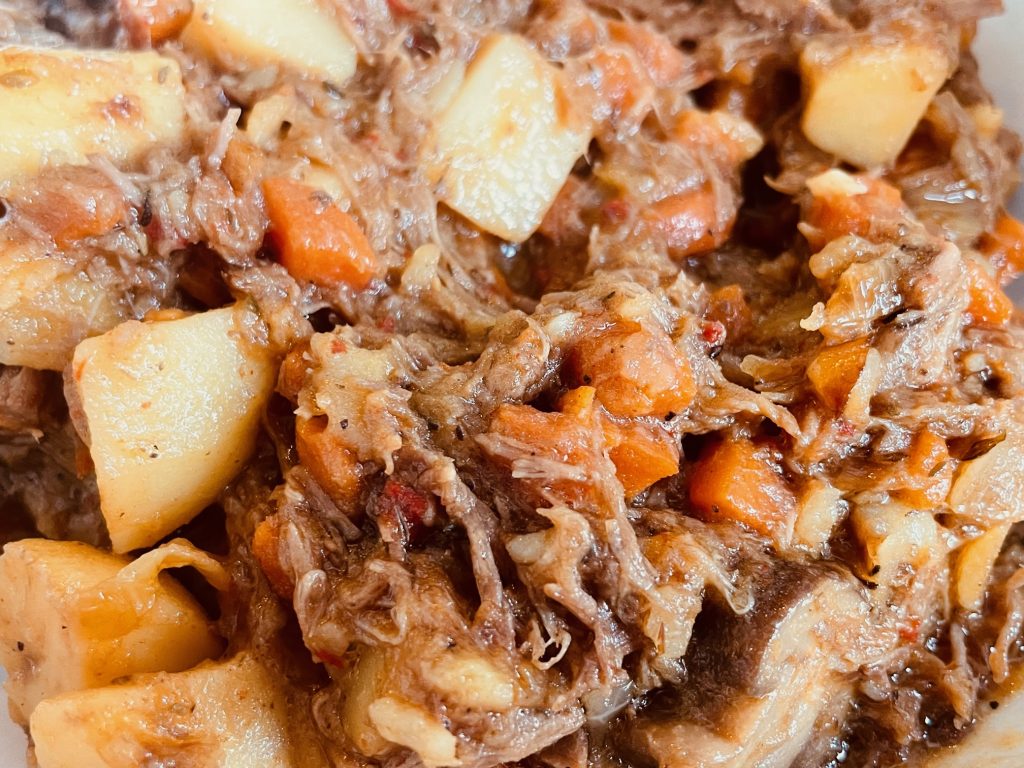 Any stew gets better after an overnight rest!
Preferably, you leave it rest and then give it a few more hours of simmering. Trust me, you won't regret!
That's what I did for the stew on the side! I waited overnight, added some fresh onions and chunks of potato in there and just let it all boil in. Delicious!
Fries are not mandatory, but strongly suggested as the best match!
Beer is not mandatory, but it can only improve the experience!
Salad (as usual) is just for decorative purposes!