I just realised now that I haven't mentioned one word about the ongoing Habanero Season, shame on me! The season in fact started in early march here, and we're approaching the 100 days mark since seeding.
This season, I truly wanted to have a proper Habanero season, so I ordered 5 different types of Habanero, and Habanada for the fun of it. The latter is the non-spicy version of Habanero, which has all the flavour but none of the burning. Bonsai bell peppers if you wish!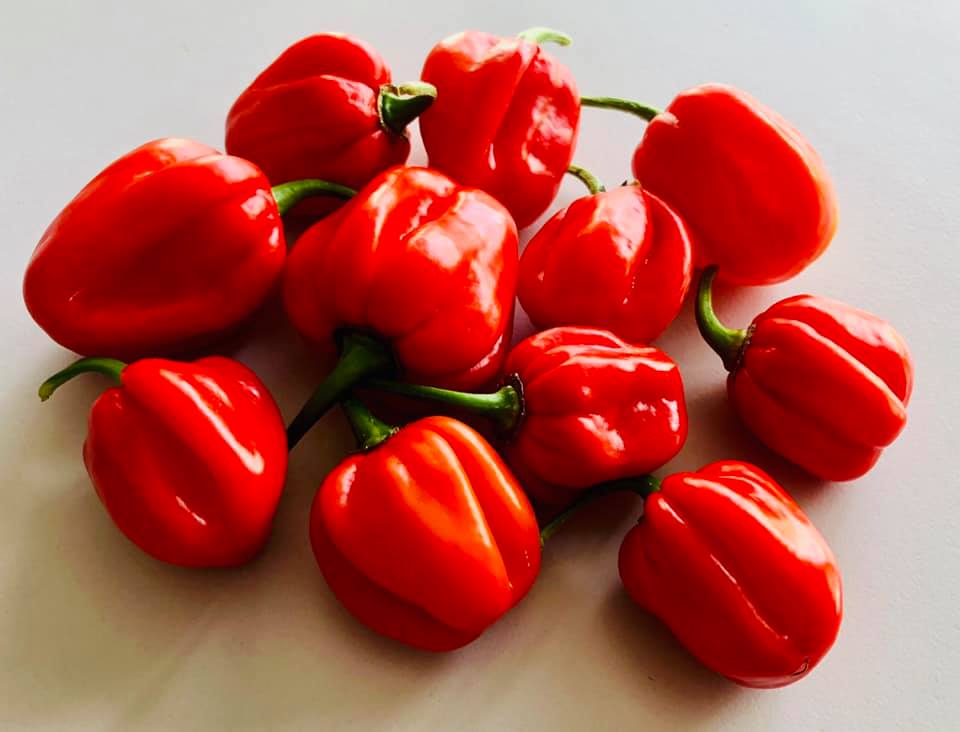 The selection for the season
The following types of chili peppers were started this season, with varying success rate in terms of germination. I started 4 to 6 of each, how many made it in the end is mentioned in the list below. The abbreviations for the names are used to indicate the different positions of the plants in the picture below.
Habanero Big Sun (BS) – large yellow habanero (3/6)
Habanero Red (R) – typical red habanero as shown above (2/6)
Habanero Small Yellow Cherry (SYC) – name says it all (4/6)
Habanero Lemon (L) – yellow standard size habanero (2/4)
Habanero Burning Bush (BB) – larger, elongated orange habanero (6/6)
Habanada (HN) – non-spicy counterpart of habanero, elongated orange (6/6, kept 3)
These were all potted up today and are ready for summer. You can see how far they got in the picture below. The table at the bottom indicates which one you find where.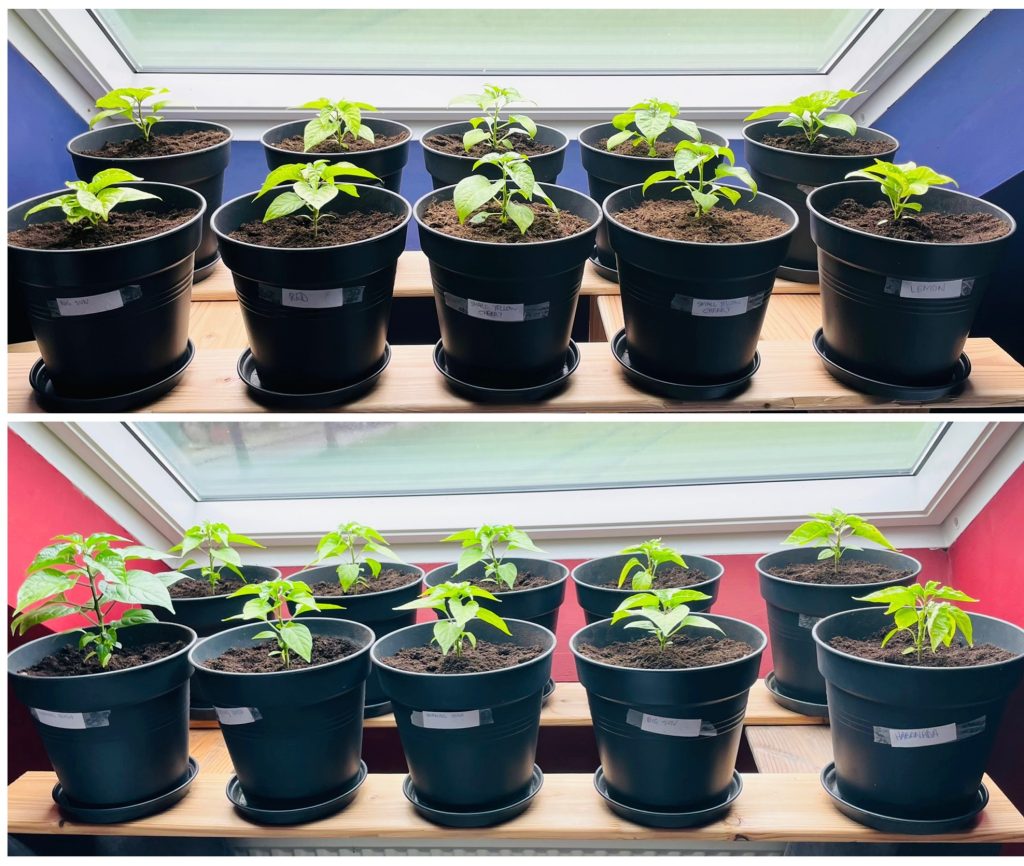 | | | | | |
| --- | --- | --- | --- | --- |
| BS | R | SYC | SYC | L |
| BS | R | SYC | SYC | L |
| BB | BB | BB | HN | HN |
| BB | BB | BB | BS | HN |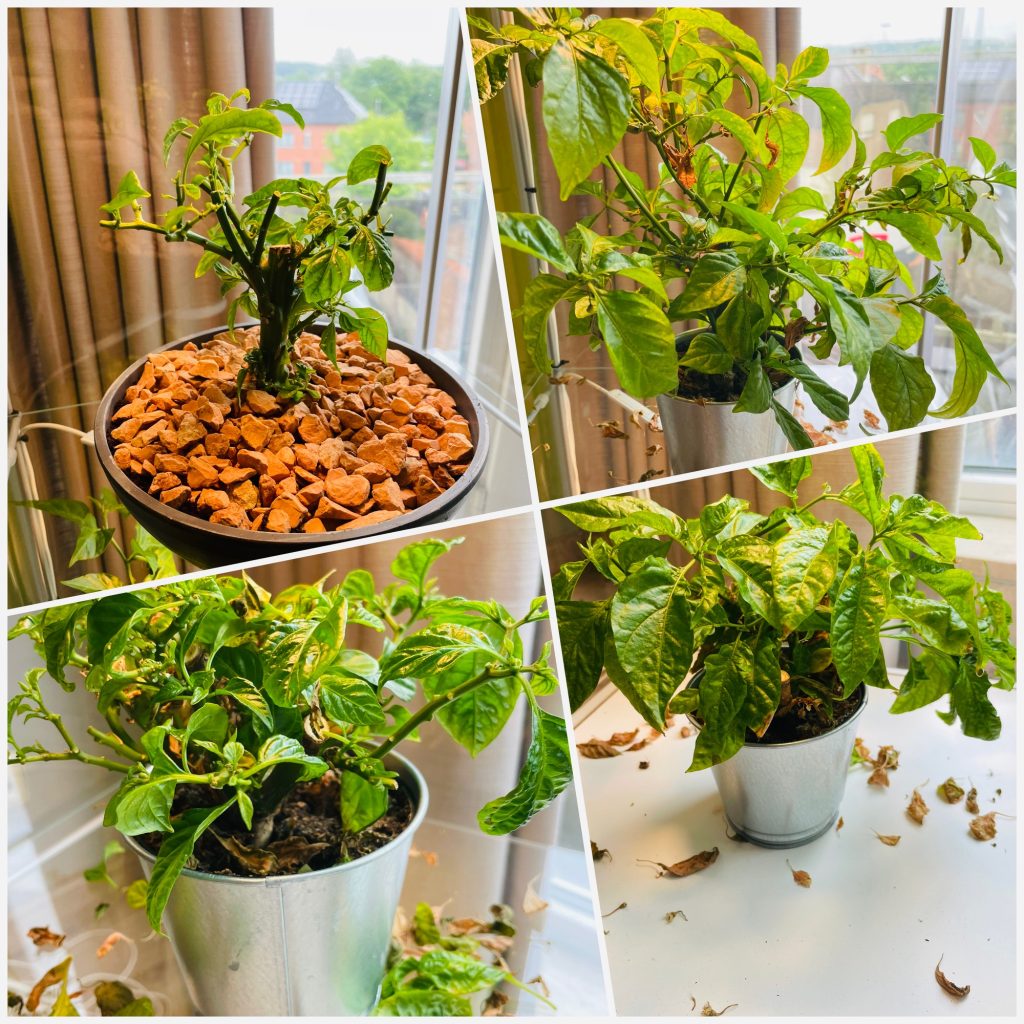 Also a brief update from Bonchi land or bonsai chili land! After blooming for two months, none of the Moruga Scorpion flowers delivered any fruits, so I clipped it and prepared for the next round (top left). The Carolina Reaper is still blooming, but also seems to loose many flowers (top right). It'll probably suffer the same faith as it's neighbour on the left. Below we see one more of each, but these have grown a bit slower and probably also need another trimming and fresh soil. I'm hoping these will bloom along, or even before their larger (to be) counterparts above!