I've always loved the game of football, at first as a (not so gifted) player as a kid, and later on also as a spectator. In my teens I was a quite fanatic fan of KFC Lommelse SK, the local team from my hometown. Back in those days, I nearly never missed any game, how or away. Unfortunately in 2003 the team went bankrupt and ceased to exist. While a new team was founded, things never really felt the same for me, so this is where the story ended for me.
Already in those days, I was intrigued by the English premier league, just because of the intensity of the game and the pure beauty of the famous kick and rush style. While there are many teams with a rich history in the UK, for me Liverpool has always been a personal favourite of mine. Once one of my oldest friends from Lommel invited me to join for a game at Anfield, I fell in love with the team, the fans and the city of Liverpool. Next to the football, Liverpool has a vibrant nightlife as the birth place of the Mersey beat that lives on and really breathes through the city any given day. Add to that mixture the "beautiful" Scouse dialect and the brilliant humour and you'll get why I'm crazy about the city.
Over the past years, I've been on plenty of trips following the Reds around with my friends of the Flemish Reds and the Leuven Reds. We also regularly meet up at Thomas Stapelton's Irish pub in Leuven to watch the games together and make more noise than some of the other guests might appreciate.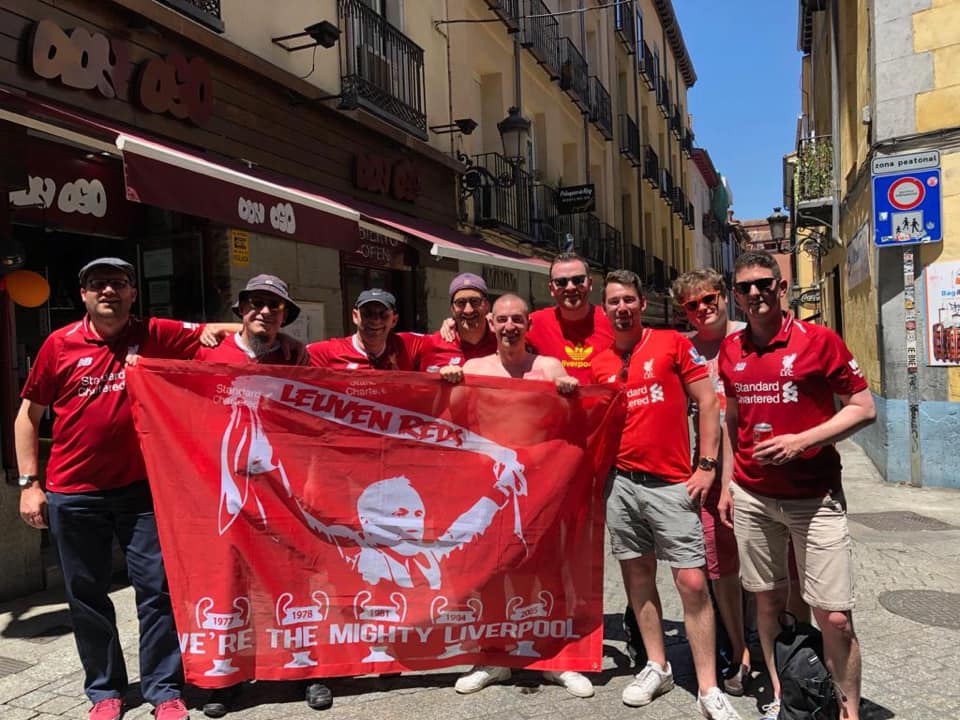 Below you can find an overview of the Liverpool games I attended through the years and those that are currently scheduled.
| Nr | Date | Game | Competition | Score |
| --- | --- | --- | --- | --- |
| 1 | 2014-04-27 | Liverpool FC – Chelsea FC | Premier League | 0 – 2 |
| 2 | 2015-03-22 | Liverpool FC – Manchester United | Premier League | 1 – 2 |
| 3 | 2016-01-13 | Liverpool FC – Arsenal | Premier League | 3 – 3 |
| 4 | 2017-04-05 | Liverpool FC – Bournemouth | Premier League | 2 – 2 |
| 5 | 2017-10-14 | Liverpool FC – Manchester United | Premier League | 0 – 0 |
| 6 | 2018-03-06 | Liverpool FC – FC Porto | Champions League | 0 – 0 |
| 7 | 2018-04-04 | Liverpool FC – Manchester City | Champions League | 3 – 0 |
| 8 | 2018-04-26 | Liverpool FC – AS Roma | Champions League | 5 – 2 |
| 9 | 2018-09-18 | Liverpool FC – Paris Saint Germain | Champions League | 3 – 2 |
| 10 | 2018-10-24 | Liverpool FC – Red Star Belgrade | Champions League | 4 – 0 |
| 11 | 2018-10-27 | Liverpool FC – Cardiff FC | Premier League | 4 – 1 |
| 12 | 2018-12-11 | Liverpool FC – Napoli | Champions League | 1 – 0 |
| 13 | 2019-02-19 | Liverpool FC – Bayern Munchen | Champions League | 0 – 0 |
| 14 | 2019-04-19 | Liverpool FC – FC Porto | Champions League | 2 – 0 |
| 15 | 2019-05-07 | Liverpool FC – FC Barcelona | Champions League | 4 – 0 |
| 16 | 2019-10-02 | Liverpool FC – Salzburg | Champions League | 4 – 3 |
| 17 | 2019-10-23 | KRC Genk – Liverpool FC | Champions League | 1 – 4 |
| 18 | 2019-11-05 | Liverpool FC – KRC Genk | Champions League | 2 – 1 |
| 19 | 2019-11-27 | Liverpool FC – Napoli | Champions League | 1 – 1 |
| 20 | 2020-01-02 | Liverpool FC – Sheffield United | Premier League | 2 – 0 |
| 21 | 2020-01-05 | Liverpool FC – Everton FC | FA Cup | 1 – 0 |
| 22 | 2020-03-11 | Liverpool FC – Atletico Madrid | Champions League | 2 – 3 |
| 23 | 2021-11-03 | Liverpool FC – Atletico Madrid | Champions League | 2 – 0 |
| 24 | 2022-03-08 | Liverpool FC – Internationale | Champions League | 0 – 1 |
| 25 | 2022-04-13 | Liverpool FC – Benfica | Champions League | 3 – 3 |
| 26 | 2022-05-22 | Liverpool FC – Wolverhampton Wanderers | Premier League | 3 – 1 |
| 27 | 2022-09-13 | Liverpool FC – Ajax | Champions League | 2 – 0 |
| 28 | 2022-10-04 | Liverpool FC – Rangers | Champions League | 2 – 0 |
| 29 | 2022-11-01 | Liverpool FC – Napoli | Champions League | 2 – 0 |
| 30 | 2023-02-21 | Liverpool FC – Real Madrid | Champions League | 2 – 5 |
| 31 | 2023-10-05 | Liverpool FC – Union SG | Europa League | 2 – 0 |
| 32 | 2023-10-26 | Liverpool FC – Toulouse | Europa League | TBD |
| 33 | 2023-11-30 | Liverpool FC – LASK | Europa League | TBD |