Spicy variation on a classic,
a sour twist to extinguish the
initial fire of the Habanero
and to preserve a slow burn…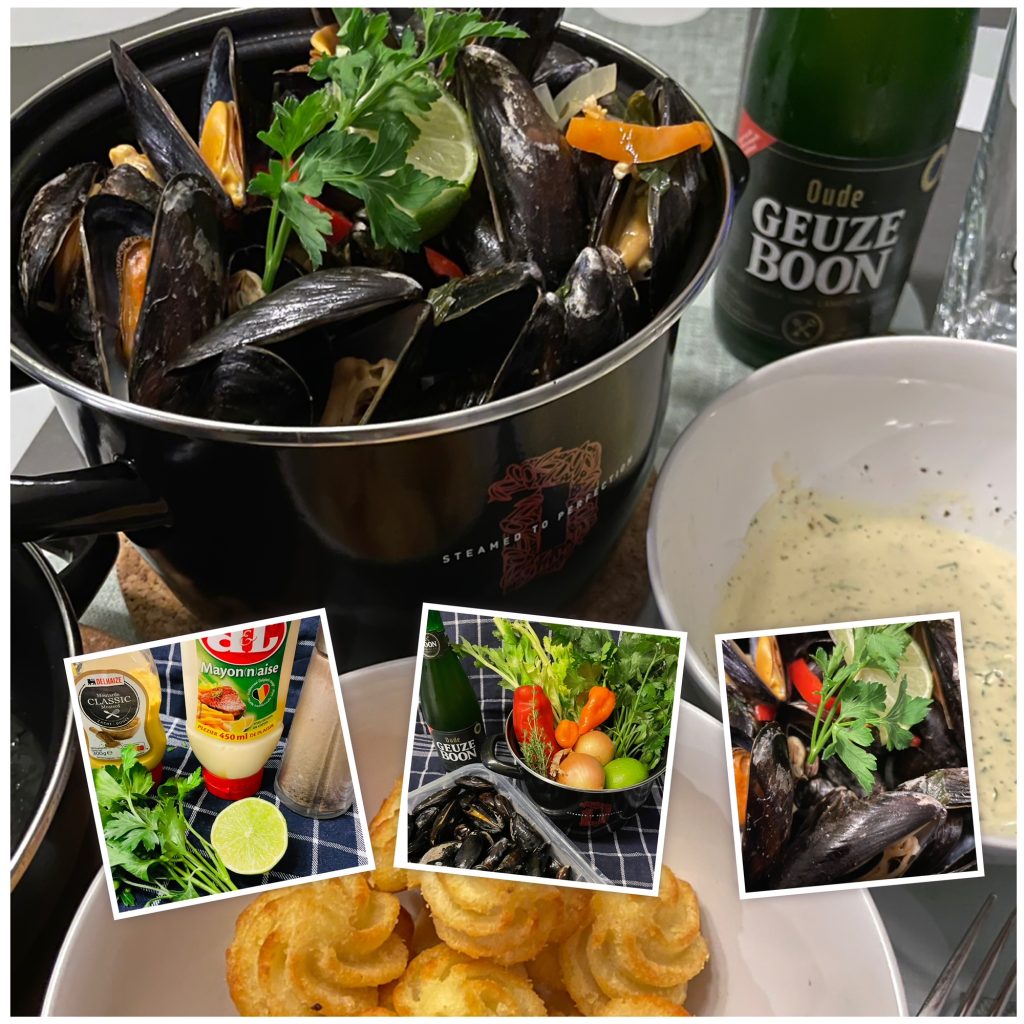 Introduction
As you may or may not know, in Belgium we love mussels. "Mosselen met Friet" (Flemish) or "Moules-Frites" (French) can be pretty much found in each corner of the country. Obviously not everyone likes them, but many of us, including myself do. Personally, I rarely go to a restaurant to order mussels, as frankly I always feel like I'm getting robbed. Mussels in itself are very easy to prepare, and with current prices in supermarkets you cook your own for about 7-8 EUR. In the recipe below I cooked my mussels from scratch, made fresh mussels sauce to go along with them, and served with oven baked croquettes. In today's recipe I used 1 Habanero and 1 Habanada pepper, along with the juice of half a lime and a bit of Geuze Boon to steam the mussels in. Note that you could go for other sour beers here, I will for sure experiment more on that front in the future. In the "standard" recipe one uses water or for example white wine instead of beer.
Now I must admit that in terms of spiciness I took a bit of a gamble here, as 1 Habanero in a single dish can give quite some punch, especially when it only has very limited cooking time. The acidity is there to take the first spicy edge off, but with a boiling time of 7 to 8 minutes for the mussels, fire will be in the hall in Leuven near Brussels! Note that if you want to try the quick version of this, you can just as well work with ready-made bags of vegetable mix for mussels and just add the chili, lime and geuze yourself. I've tried this a couple of weeks ago with dried habanero flakes, it worked out well but just fresh is hard to beat!
Ingredients
The ingredients shown in the picture below are just for the mussels themselves, the sauce is introduced later in the preparation section. The ingredients used there are also listed here. We just make on portion of mussels in this recipe today.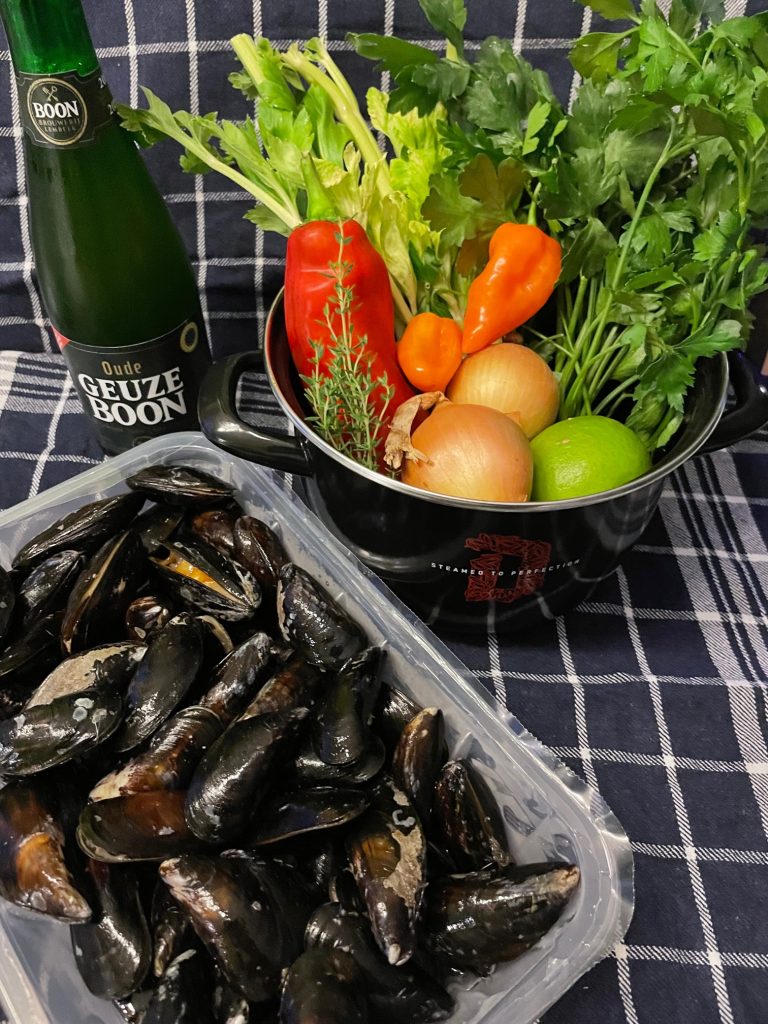 1 kg of Mussels
3 Stalks of Celery
2 Onions
1 Sweet Bell Pepper
Some Parsley
Some Thyme
Juice of 1 Lime
1 Table spoon of Mustard
1 Table spoon of Mayonnaise
100 ml Geuze Boon
50 g Butter / 50 ml Oil
Peppers to taste. Here 1 Habanero and 1 Habanada.
(Black) Pepper to taste
Preparation
While mussels require only a short amount of cooking, when you're doing things from scratch it's crucial to prepare well such that you can serve the mussels alongside with your side dishes. Mussels can easily be overdone and loose all flavour, so it's crucial to boil them exactly right and serve right after.
It all starts with the mussels themselves. While they come "ready to use" according to the packages one buys, I'd always go and rinse them a few times. Also, I try to buy my mussels as fresh as they can be, so usually I check if I can get those that were packed the day before or even the same day. The fresher they are, the more likely they're all still alive. I typically rinse my mussels in the sink with salted water. Those that were slightly open will now close, indicating that they are still alive. Leave them rest for a few minutes and replace with clean water a few times more (no need to add salt). Get rid of any shells that remain open after 3 rounds or any shells that are cracked or damaged.
The mussels sauce we can also prepare beforehand and it takes just a minute or two. The ingredients are shown on the left top in the picture. We add them together as illustrated and just stir to get a nice golden yellow sauce. Some things in life are as easy and good as can be!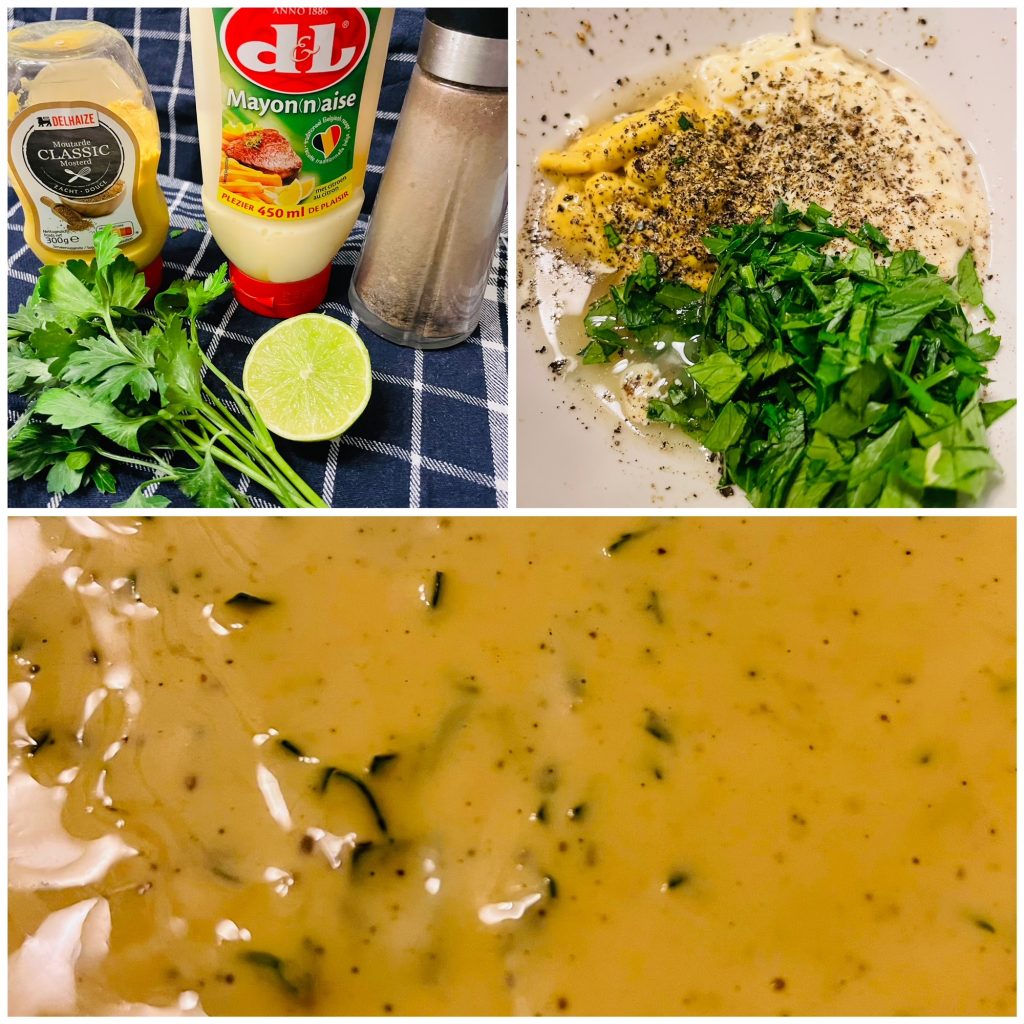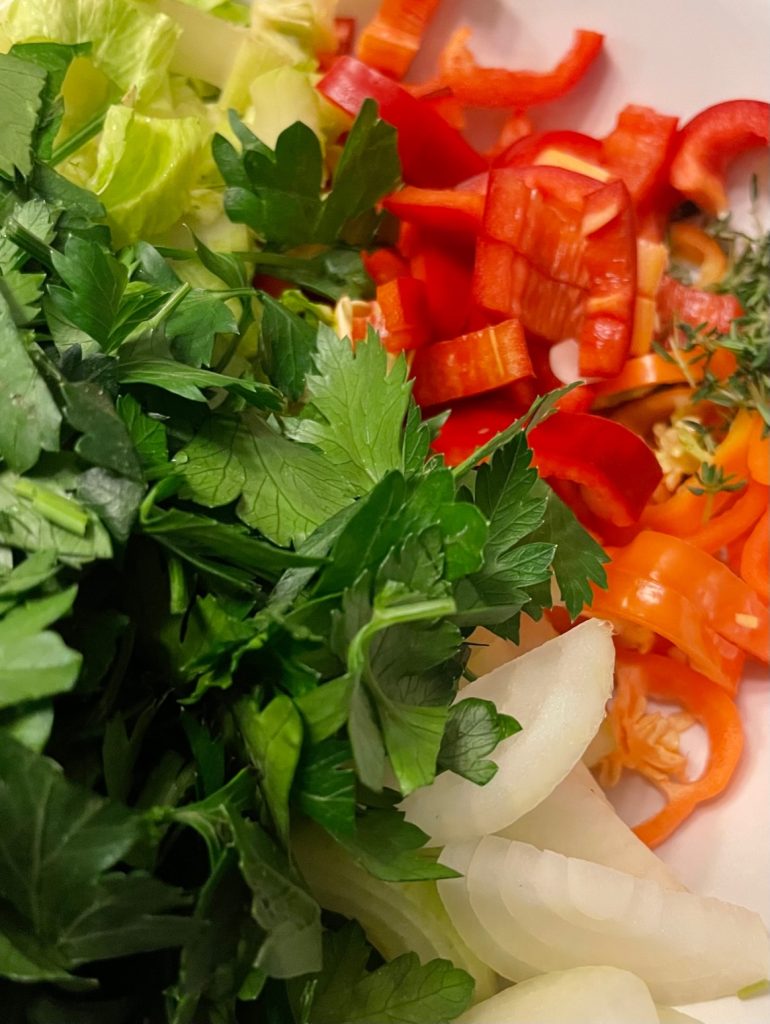 In the picture you can see the vegetables chopped and ready to go into the mussels pot soon. We've coarsely chopped the onion, celery, parsley, sweet bell pepper, chili pepper and thyme. We melt the butter/oil in the mussels pot and add the vegetables, along with half the lime juice into the pot. We season just with some black pepper, as the mussels contain plenty of salt as is. We use a high fire to quickly fry the vegetables and add the Geuze Boon beer to the mix after that. Once everything is steaming, we add the mussels and put the lid on. From that moment onwards, the mussels will be ready in 7 to 8 minutes. About half way throughout the steaming process, we shake up the mussels and leave them for a few more minutes. After 7 minutes, open the lid and check if all mussels have opened. If some are still closed, put the lid back on and give half a minute to one minute more. By now all should be ready and opened.
Serving tips
Mussels don't require any fancy looking way of serving. I added some parsley and lime on top, but actually they're fine as the come of the stove! All I can say is enjoy while fresh!
Mussels are obviously nice with Belgian Fries
Serve it with the beer you used in preparing, here Oude Geuze Boon
Sweet fruit beers would also work great with this recipe
Curry could offer another nice touch here!