The perfect mariage of
bell peppers and chili peppers
with an Italian twist…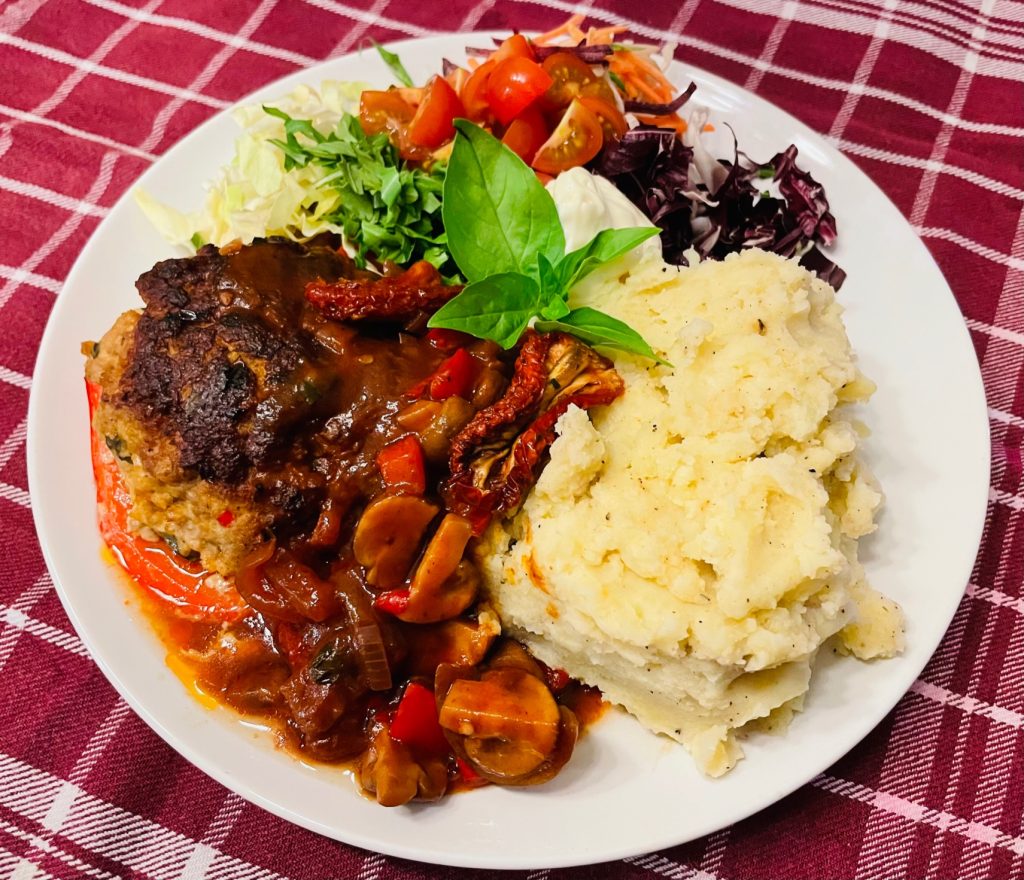 Introduction
Stuffed bell peppers are quite popular in many different cuisines. Sometimes they're done with vegetables and rice, sometimes with just meat and often a mixture of those. Here I went for a mixture of veal and pork minced meat infused with sun dried tomatoes, basil, chili peppers and onion. Those same ingredients that were blended in the meat also form the basis for the complimentary sweet red wine sauce.
Ingredients
The ingredients listed below make 3 to 4 portions of this dish. The recipe only covers the stuffed peppers and the sauce, as it could be combined with many side dishes of choice. I went for mashed potatoes and a green salad, but there are plenty of other options that would work out great.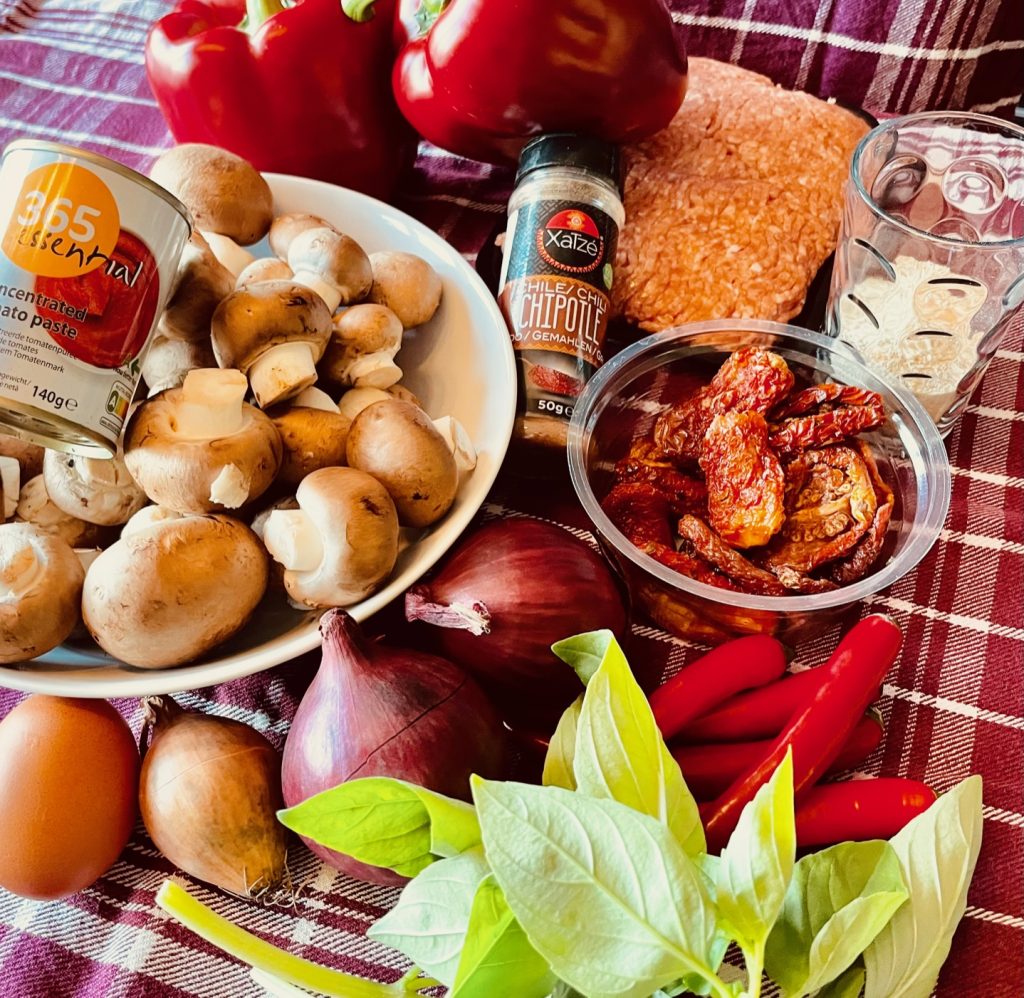 500g of minced meat
3/4 Bell peppers
500g of mushrooms
1 Small onion
2 Large red onions
20 grams of fresh basil
1 egg
Breadcrumbs
100g of sun dried tomatoes
1 Glass of sweet red wine
1 Jar of tomato concentrate
Chili peppers to taste. I went for 5 jalapeños and chipotle
Salt and pepper to taste
Preparation
As the stuffed bell peppers are cooked in the oven, we start with preparing them and focus on the sauce afterwards, as there's plenty of time for it while waiting for the bell peppers to be ready.
First we chop up the small onion, half of the basil, half of the sun dried tomatoes and two of the chilli peppers. Make sure to chop everything very fine such that it nicely blends in with the meat. Add everything into a bowl along with the meat, the egg and some bread crumbs and mix everything together until it has the required consistency. For each serving, half of a bell pepper is stuffed with the meat mixture. At this stage I prefer to already color the top side of the meat a bit in a frying pan with butter or oil, but this step can be skipped. After about 5 minutes, I transfer the peppers into an oven tray and cover it up with aluminum foil. They are then cooked further in the oven for about 1 hour at 180 degrees. The aluminum foil ensures that the meat won't dry out during the cooking.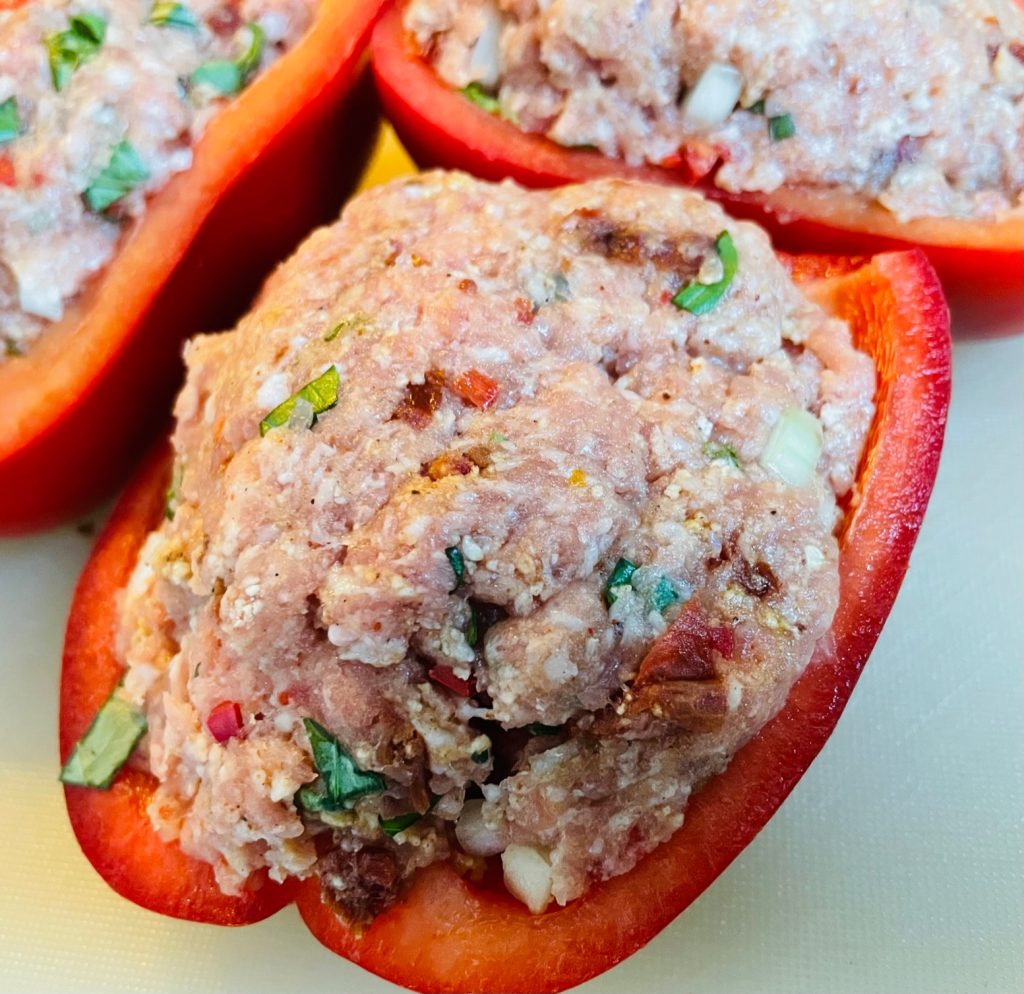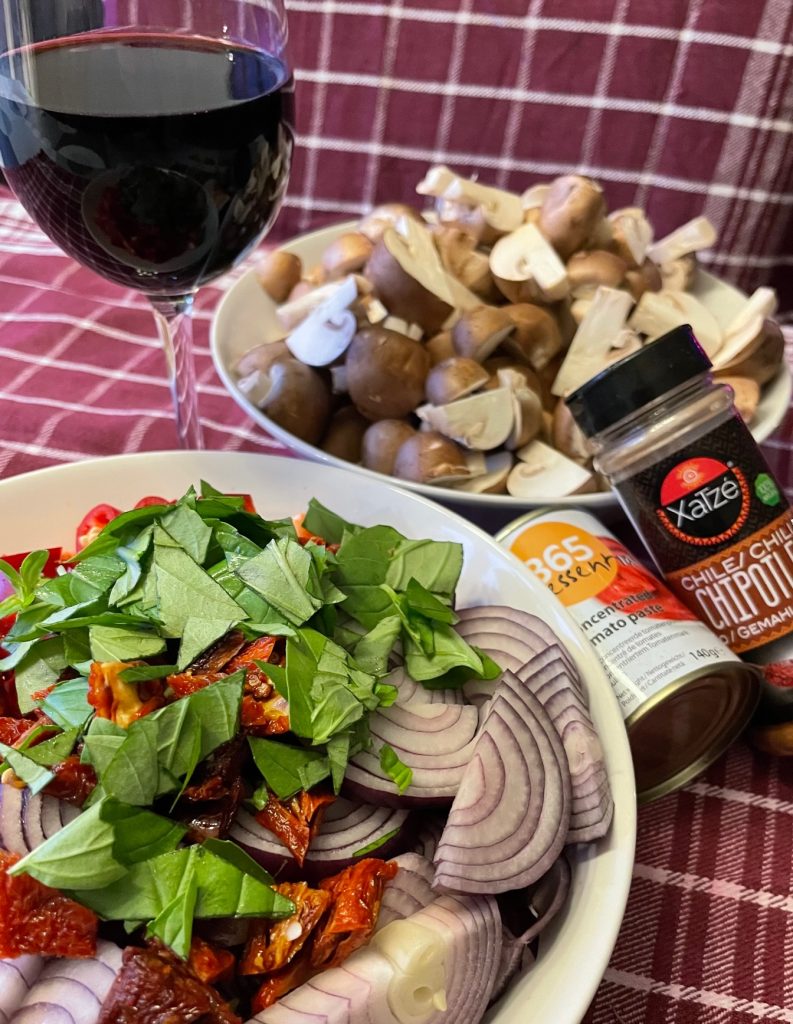 For the sauce we can just use the same pot as we did for colouring the stuffed peppers. At first we add the coarsely chopped mushrooms and season them with a bit of salt and black pepper and chipotle. After that, we add the remainder of the bell peppers, chili peppers, sun dried tomatoes, basil and the two red onions, which are all cut a bit coarser. After a few minutes we add the tomato concentrate along with the red wine. Depending on the way you will serve you can add some water to the mix to achieve the desired consistency. Let it simmer for about half an hour on low fire. Once the bell peppers are done, you're ready to serve with the sides of your choice!
Serving tips
Works great with rice, couscous or potato based sides!
If you prefer to work without the wine, adding a bit of ketchup to the sauce also works great for getting a sweet touch. This applies to any tomato sauce and I often use it in things like spaghetti bolognese for example.
The same recipe would be great with any other type of minced meat. Chicken mince works great, and the same would apply to beef for example.
The mixture of ingredients infused into the meat can easily be tailored to taste. Experiment and find out your personal favourite!
I picked red bell peppers for this recipe, as they are the sweetest ones of them all. It would work just as well with yellow or green ones of course!
I went for brown mushrooms today, as these contain less water than their white friends. As such it is easier to fry them instead of just boiling them as white ones would instantly release all water they contain.