A simple yet sublime
sweet and sour mix
that works as a stew
or a pasta sauce!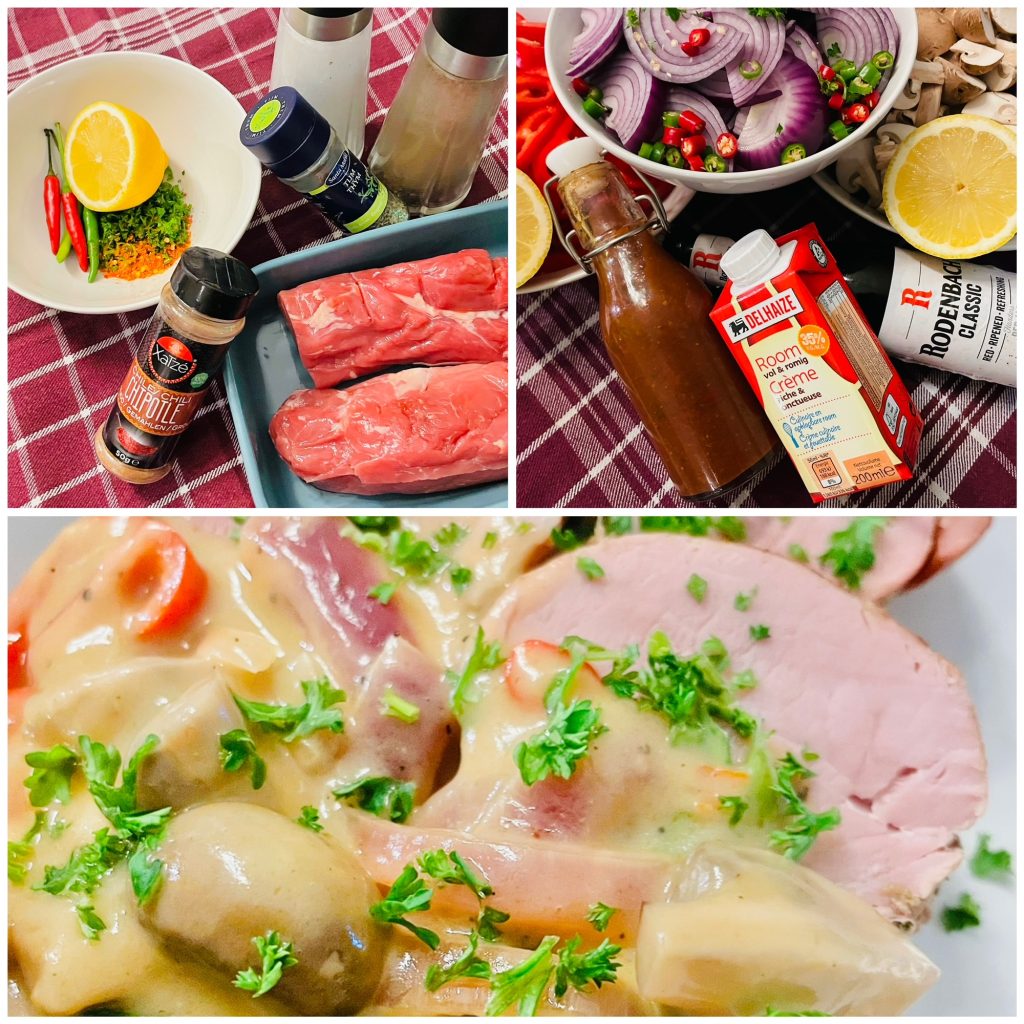 Introduction
As a first full spicy main dish I share on this blog, I figured I better start with something really exciting. It's a very versatile recipe that can work as a stew, a pasta sauce and that can be tailored with many other meats (or even work without as a vegetarian sauce). It gets sweet and sour touches from the Rodenbach beer, which pairs amazingly with cream and chili peppers! I've made this one many times before, sometimes with chicken, sometimes with veal, but always really sublime in flavour. For this particular occasion, I went with Pork Tenderloin from the Belgian Ardennes, which was slow-cooked in the oven. A very filling dish that works great on cold winter days, but also any other day of the year!
Ingredients
For this one it's likely that you do not have all ingredients readily available, as I'm including my Smokey Hot Italian Fire sauce in this version. Don't worry if you don't have it, feel free to add any other spicy sauce (maybe even some ketchup for an extra sweet touch) to the mix, or just skip this one.
This recipe can pretty much be split into two parts, so therefore I'll do the same with the description here and show the main ingredients in pictures.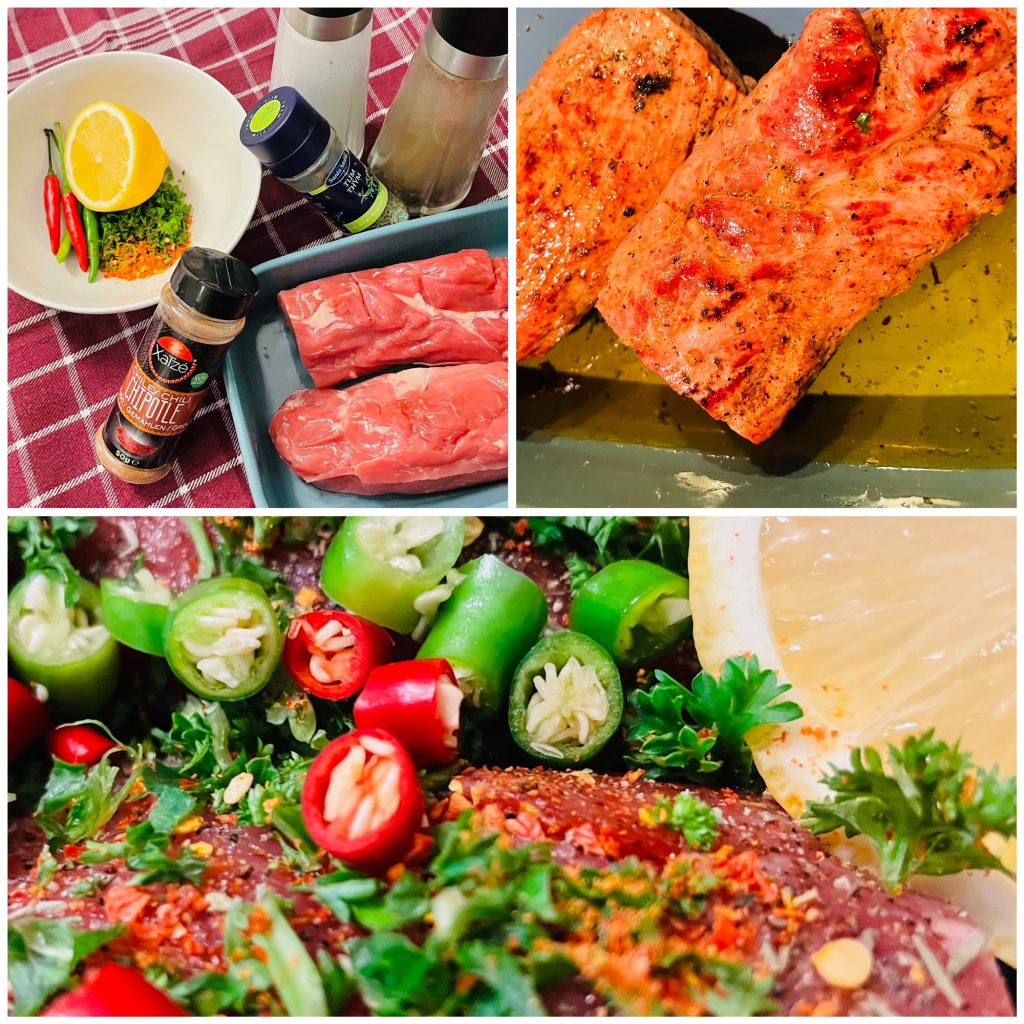 500g to 1000g of Pork Tenderloin (or other meat to taste)
100g of Butter
50ml of Peanut oil
Pepper and salt
Thyme
Juice of 1 lemon
Chopped parsley
Peppers to taste. Here 4 fresh cayenne peppers and some Chipotle, along with dried Habanero, Moruga Scorpion and Carolina Reaper
Some juicy piece of meat like this requires an appropriate sauce, which contains:
100g of Butter
50ml of Peanut Oil
3 Red Onions (sliced)
3 Sweet Bell Peppers (Sliced)
500g (Brown) Mushrooms
1 Rodenbach beer
250ml of Cream
Juice of 1 lemon
Salt and pepper
Chopped parsely
Red wine vinegar
Peppers to taste. I used 4 fresh cayenne peppers and added about 50ml of Smokey Hot Italian Fire sauce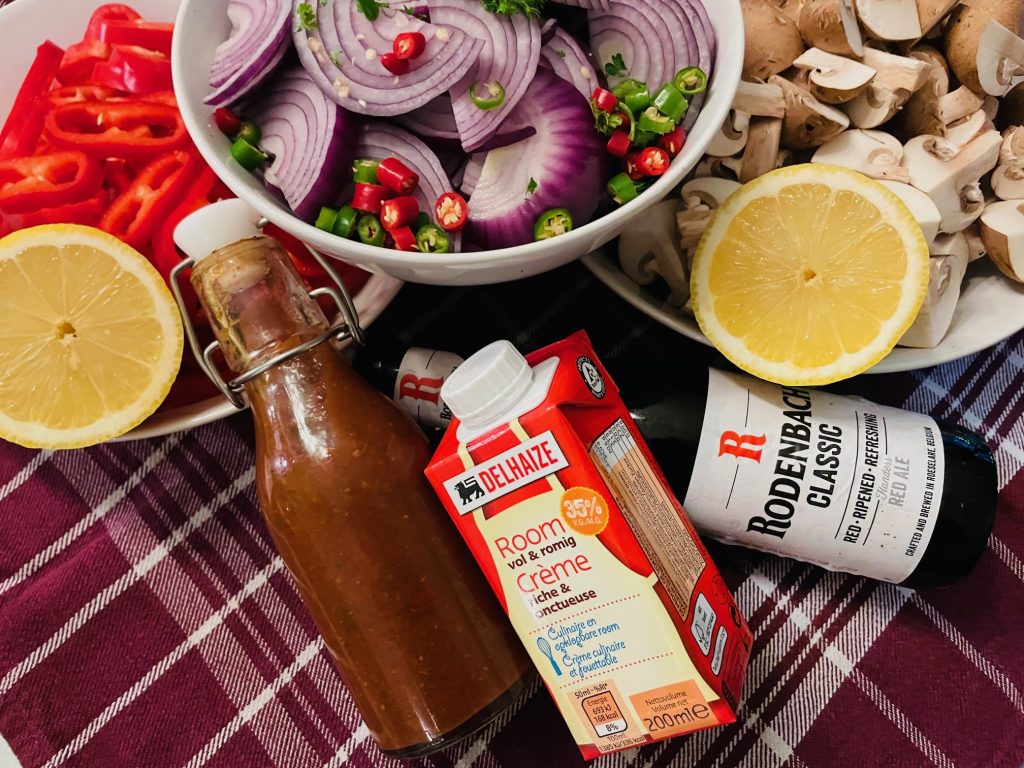 Preparation
Since we're slow-cooking the meat in the oven, it's best to start out with that. As depicted in the picture, the Pork Tenderloin is kept in large pieces at the start, just to colour it in the frying pan first. All ingredients apart from the meat go straight into the pot. The combination of butter and peanut oil is used such that the temperature can reach a bit higher levels to really colour the meat quickly.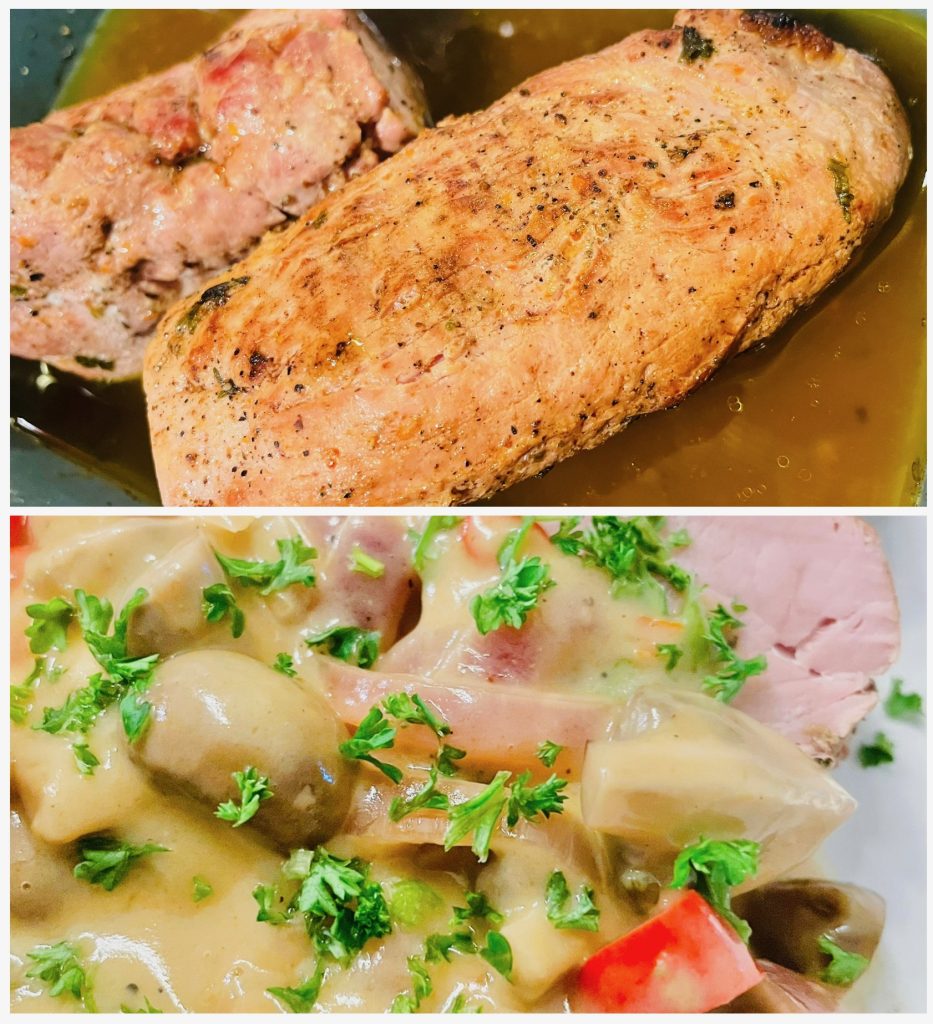 The tenderloin is than put into an oven tray, along with the juice from the frying pan. It's wrapped in aluminum foil and put at 180 degrees for about 1 hour. Once it's done, it comes out looking at the picture on the top. After slicing up and adding sauce (recipe right below) it shows a nice and moist pink inside along with a brown outside.
So time to also make that sauce right? Guess what, there's plenty of time to make this one while the meat slow-cooks. So here it goes for the sauce!
I start with a bit of red wine vinegar, in the frying pan used for the meat before. This helps to release any bits and pieces from the meat that got stuck, we definitely want to keep that in the mix! After adding a bit of oil and butter to the pan, we chop in the onion first, followed by the mushrooms and the bell pepper. Stir on a low fire for a few minutes. Add the lemon juice, the hot sauce with salt and pepper to taste. Leave to simmer for some extra time. Now add in the Rodenbach and Cream and leave to boil in on a low fire until the meat is done.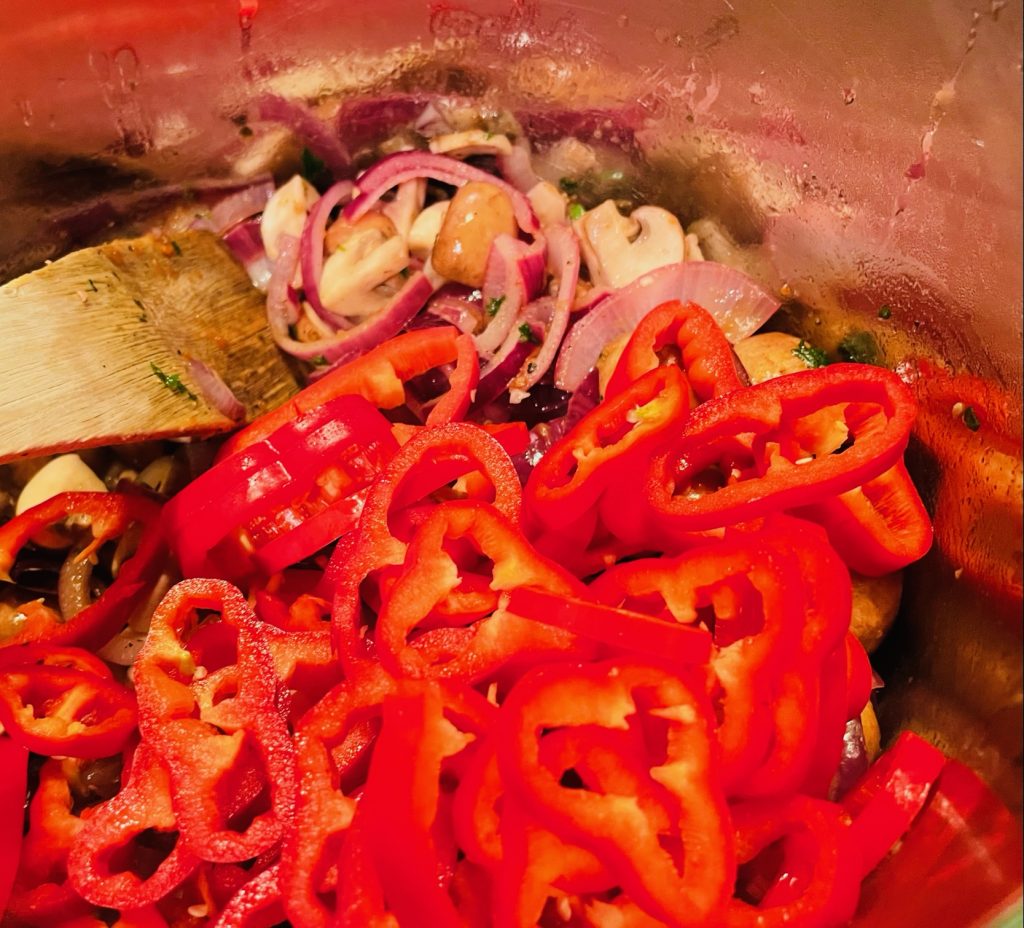 Serving tips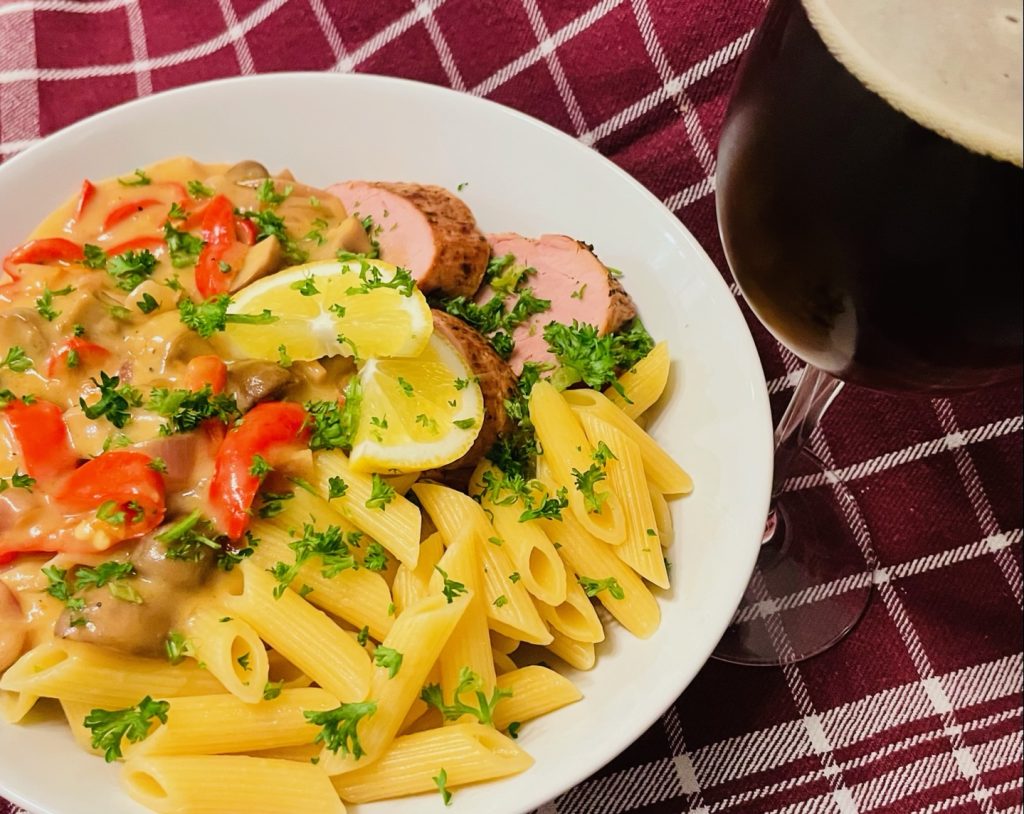 This is how I decided to have this one today. With Penne and sided by Rodenbach.
Try this one as depicted with pasta, works really great!
The Rodenbach on the side is mandatory!
Note that for this recipe you could get fooled and think you're fine with 1 or 2 Rodenbachs. This is a common mistake. Make sure to have at least 2 more cold ones for the cook!
Great with a potato based side-dishes (Fried, baked, boiled,…)